So I'm letting go of that myspace stuff and just going to blog. Since I've traveling so much lately and finally home for a good few months I have time to sit down and post some photos from Amsterdam AND Mexico, so here goes....
AMSTERDAM
the thing I really loved about Amsterdam was how there was a super thin layer of green moss everywhere:
And in the right light it looked like a fantasy land.
Here was my fantastic little sweet hotel:
Marimekko anyone?
The inside:
Plain but perfect for me. I crashed out that day with the windows open listening to children playing in the playground across the street. I couldn't ask for anything better.
Here's a big block of cheese that I saw while I was hobbling around the neighborhood:
Even random rope looked well merchandised in Amsterdam:
And it was just rope holding a houseboat in the canal in front of my hotel.
All of my photos of my solo set at STEIM made me look a little chubby, so heres some photos of the last set where Martin Teratault, DJ Sniff and I did a great trio performance:
After the show I had another 2 days to kill before I headed back to the states. A lot of you guys know about my quest for this dress that I was dying (and still am) for but for those that don't know, I was in love with this dress. It was by Kenzo from the Spring of 2007 and I searched to no avail here in NYC for it. I even spoke with the European collections buyer from Bergdorf Goodman about how I could get this dress, his suggestion? Go to Paris. And so Saturday in Amsterdam took a taxi (remember my broken foot) and searched all over the city for the dress, hoping that I wouldn't have to go to Paris. No dice. So early Sunday morning:
I got on the first train (around 7 in the morning, which for me is an UNGODLY HOUR)to Paris:
10 minutes before the train got into Le Paris Nord
I spoke with a Parisian that was sitting next to me and asked him for some directions to the Kenzo store, he called the store and they were closed. And I laughed all they way to Paris.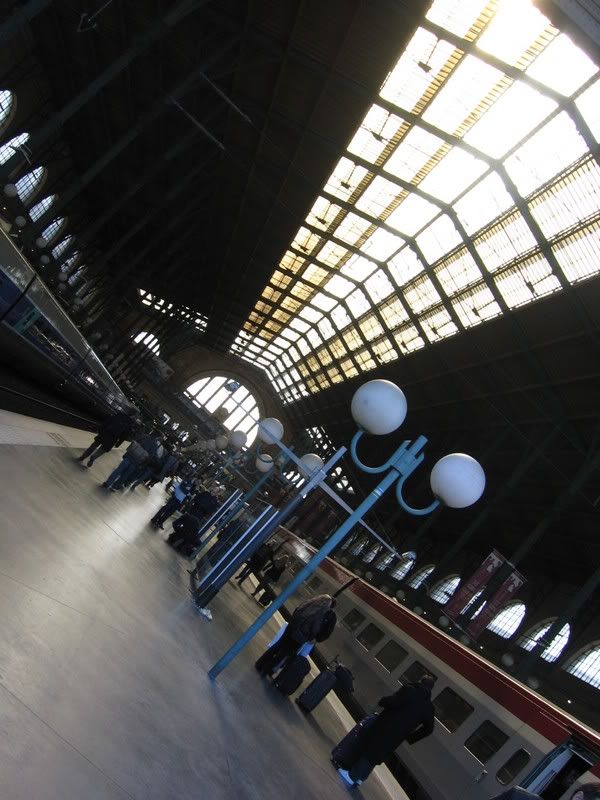 So what was I supposed to once I got there?? The store was closed, I didn't know the first thing about Paris, the last time i was there was when I was 16 and I had my aunt to show me around. So I decided to grab lunch:
So I went to Paris and all I got was a delicious Niçoise salad....
It was really really good.
More tomorrow, my knee hurts....